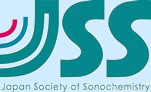 Japan Society of Sonochemistry


[ Top page ]
[ Japanese top page ]

---
Welcome to the JSS Homepage !!
Japan Society of Sonochemistry (JSS) has been established in 1992 as a non-profit organisation.
The society and its members are interested in the basic science and the application of ultrasound in chemistry and related fields (e.g. sonoluminescence, materials science, environmental science, medical application, biotechnology, etc.).
More than 100 persons join the society.
---
the Annual Meeting of the Japan Society of Sonochemistry
The society has a symposium annually, usually in autumn.
The proceedings of the JSS Annual Meeting
(Move to "J-STAGE" website organized by Japan Science and Technology Agency, MEXT, Japan )
---
---
International Sonochemical Meetings in Japan
2007
The International Symposium on Sonochemistry and Sonoprocessing 2007

(Kyoto Research Park)
2011
The International Workshop on Advanced Sonochemistry

(Nagoya University)
---
---